Basketball
Our Year 5/6 Basketball team has their club on a Mondayday after school. The children absolutely love playing basketball. The enthusiasm and attitude they display is fantastic!
Last year's WINNERS!!! Broadfield's basketballers were crowned Play Off Winners on the 12th June. They played two games in the finals. Their first game was an end to end game with Broadfield missing more than enough chances, Meanwood took the lead with a basket which was against the run of play. Jussara Scored a penalty shot which levelled the game, despite several more efforts at the basket the game finished 2-2.
On to the second game. After Meanwood had beaten Lowerplace 12-2 it meant that Broadfield had to win their last match by more than 10 clear points. Well... They smashed that target eventually winning 22-0. Some fantastic individual efforts resulted in a great team performance. See Broadfield showing off their trophy and medals below.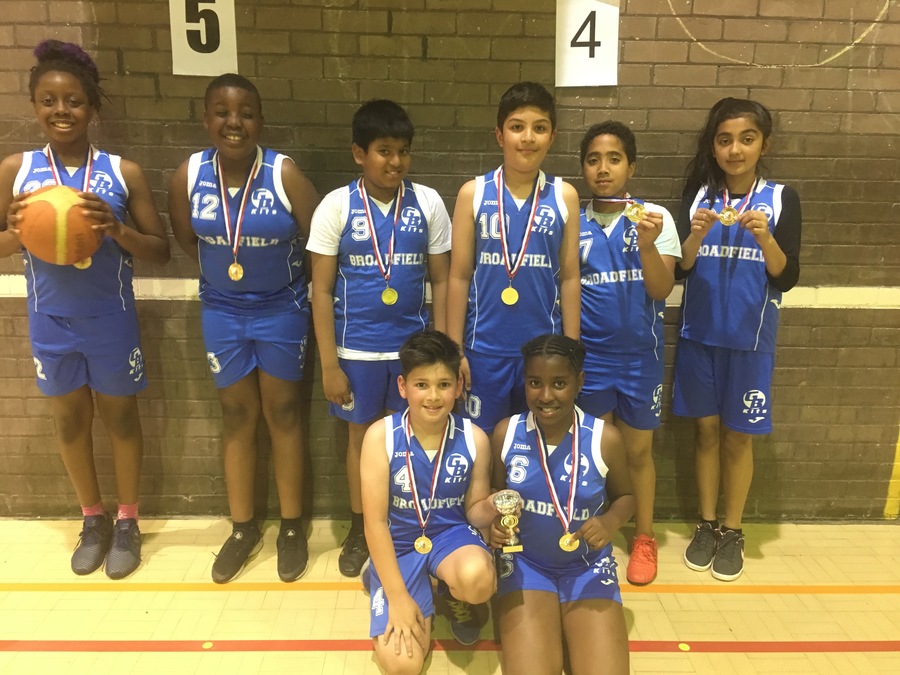 Below is this year's first basketball team who came away from their first tournament with two draws and a loss. The team competed very well and there were some fantastics skills on show. Zain and Lwaty showed brilliant dribbling skills whilst Haroon and Ibtesam's shooting was pin point. Precious and Lewis defended very well whilst Steven was like a Tasmanian devil around the court (he was everywhere). Aadam added a boost of height and Yordanos was a nuisence to the opposition.