Freddy Fit
Freddy Fit visits our school once a term. He works with every year group teaching us about keeping fit and living a healthy lifestyle. He teaches us lots of exercises that help to keep us fit and we often use them in our P.E lessons.
Freddy also runs lots of competitions with us and this year, we held our very first Freddy Fit Competition with Key Stage One. We had a great time and really tested the fitness of the children in Key Stage one.
Keep checking the Sports Notice Board outside 1B to see pictures of Freddy and what he has been doing in our school.
December 2015
Freddy Fit came into school to see us with his Festive Workshop. He spent two sessions with the children who had 100% attendance for the term and then managed to do a very short fitness fun Workshop with each Year group! We had a great time.
October 2015
Freddy Fit has just visited us with his Fitness workshop! He spent two days working with our new sports leaders and delivering his workshop to all of our classes! Have a look at the photos of him at Broadfield!
February 2015
Freddy has just visited us with his Circuit For Life Workshops! All of the children took part in a circuit training workshop and this will now continue in our school during PE Lessons. As usually everyone had a great time and we are looking forward to seeing Freddy again in May!
Freddy has just visited our school with the Christmas Workshop! This year, all of the children who got 100% attendance for the term took part in a Christmas themed workshop with Freddy, taking part in activities such as speed bounce, skipping and the 'Crimbo Limbo!' Well done to everyone who achieved 100% attendance.
Have a look at the photo below!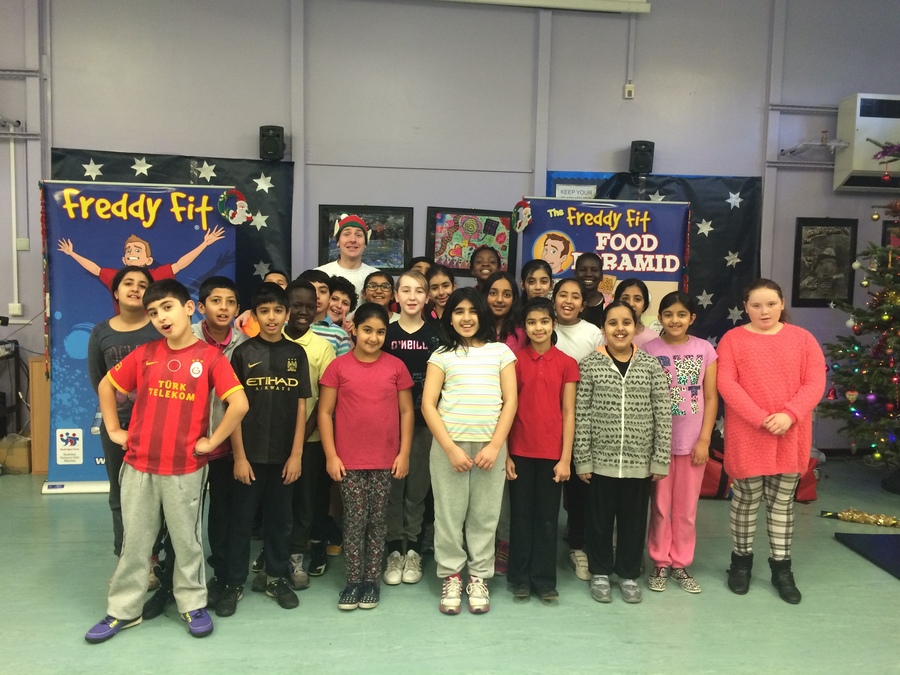 Freddy Fit - February 2014
Freddy's Festive Fit Workshop
Freddy's visit to Broadfield November 2013
Freddy's visit to Broadfield June 2013
Freddy Fit Intra Competition