School Council including British Values
The Children's Voice
Hi, I am Mrs Zesmin, I play a supporting role in helping the children in running their own School council meetings.
We have a fantastic group of young people, who the children have voted to represent their views, and they are doing a brilliant job!
Autumn 2019
In Autumn term 2019- the school council have ran the projects below and have achieved so much as a team.
*School Council Candidate applictaions

*Whole School Voting Day

*Visited Town Hall for Democracy Week

*Met local councillors and the Mayor

*Ran lots of activities to raise money for Children in Need

*Organised Broadfield's first ever book swap which was extremely successful.. more 'Book Swap days' coming soon!

*We have introduced and launched 'You've been spotted!'- linked to British Values and other Broadfield Values.

*We have two new displays around school!- Have you been spotted? and School Council Notice board!
Spring 2020
Launching this term!
Broadfield Buddies- friends in the playground who will make sure nobody is left lonely. Look out for posters about how to apply to be a Broadfield Buddy.
School Council Surgeries- School council members will be outside the Poppins room once a month, so all children can find out what's going on and give us your thoughts and ideas about what to work on next.
Another Book Swap day- At Broadfield, we love reading- we know this!!
So we will organise another book swap soon...
The School Council Meetings take place every week on Thursday at 8.00 in the school library
- Don't be late!
Following the visit from the NHS, School Council have been asked to provide some drawings to be used withNHS leaflets that will be given to children to make their information more accessible to young children.
Iffat in Year 4 produced this superb poster which we have shown to the NHS.
Fabulous job Iffat!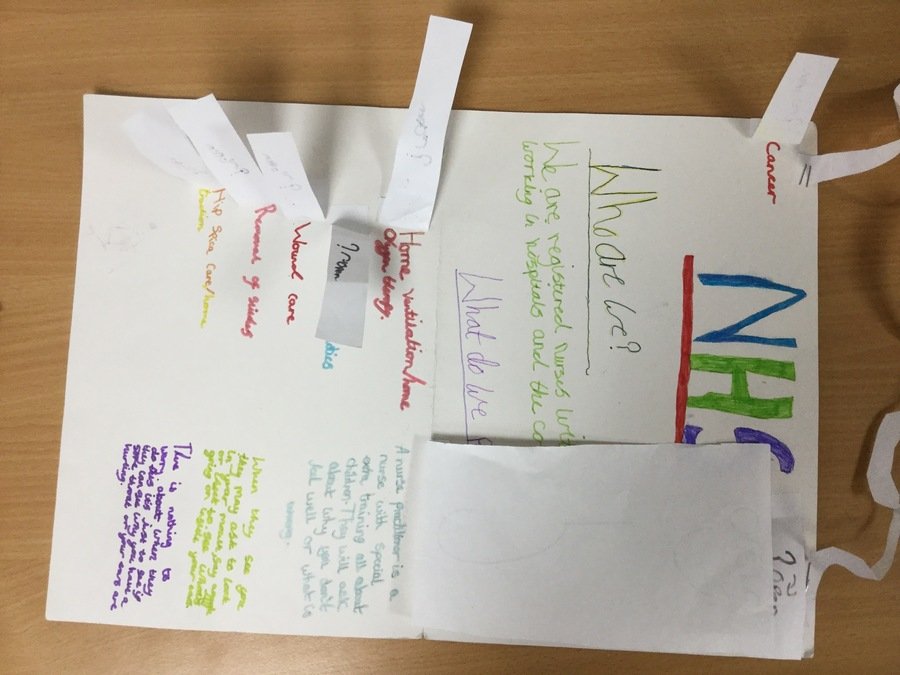 A VISIT FROM THE NHS
On Thursday 17th January two nurses from the National Health Service (NHS) came to visit our School Council at Broadfield Primary School. We were also joined by some other children from school who wanted to take part in this unique experience.
They gave us lots of information about the different jobs of the doctors and nurses in the NHS. They told us about GP's and about specialist children's doctors called Paediatricians.
They bought lots of leaflets for parents and carers but their leaflets were not very child friendly. So, they asked us for some help to make their leaflets child friendly and accessible for children who were visiting doctors because of illnesses.
Our School council suggested that they could also develop child friendly posters to give children more information about Allergies, Asthma, Eczema etc. They thought it was a brilliant idea.
Following the visit they asked for our children's drawings which may be used on their new leaflets and posters!
***Please Remember: Our last meeting this year will be on the 6th December.***
The Job of a Magistrate
On Thursday 22nd November the School Council invited a Rochdale magistrate to come and speak to some children from our school.
They found out some really interesting information:
You can't be a magistrate if you have a criminal record.

Magistrates can be aged from 18yrs to 70yrs.

A magistrates day starts at 10am and finishes at 5pm.

Magistrates DO NOT GET PAID!

They pass sentences and can send criminals to prison.

Children aged 10years old to 17 years old go to a young offenders court.

Once you get a criminal record it stays on your file FOREVER!

80

different countries will not allow people, who have a conviction against them.
The School Council representatives will come round to the classes to tell you about the visit and answer any questions you might have and
Well done to the School Council representatives who helped sell raffle tickets during Children in Need week.
.Watch out for information about our visit on Thursday 22nd November from representatives of Rochdale magistrates. They will be coming to school to give a presentation to the school council about the work of a magistrate. School Council will then pass on what they learn to the rest of KS2. It promises to be an exciting evening!
In December we will be visited by members of the NHS team responsible for designing child friendly literature for distribution to the public. They will be coming to school to ask the children for their help in designing child-friendly leaflets for distribution in hospitals and getting the children's advice on how they can use different media, to raise the profile of their services.
We have some interesting ideas for later in the school year to help our school and would like any ideas you can offer too! Give your ideas to one of the School Council, Mrs Cooper or Mrs Zesmin.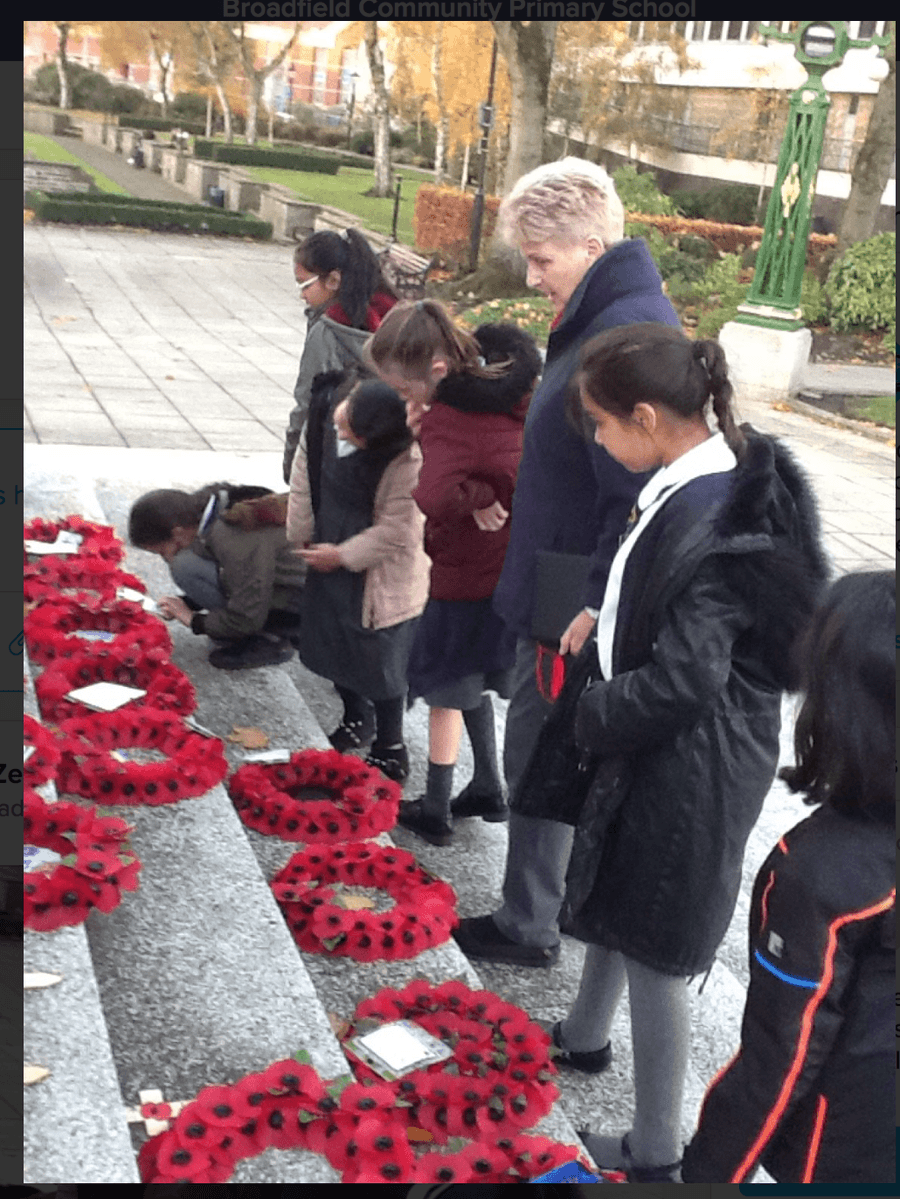 Remembrance Day
Some of the of the School Council representatives went to the cenotaph in Rochdale with Mrs Cooper and Mrs Zesmin to see the poppies that had been placed there.
We were all amazed at the number of crosses and wreaths we saw and the new, permanent displays that had been erected to commemorate the 100th anniversary of the end of World War 1.
We had made our own poppy displays in school and the children were able to tell Mrs Zesmin and myself about the story of the poppy.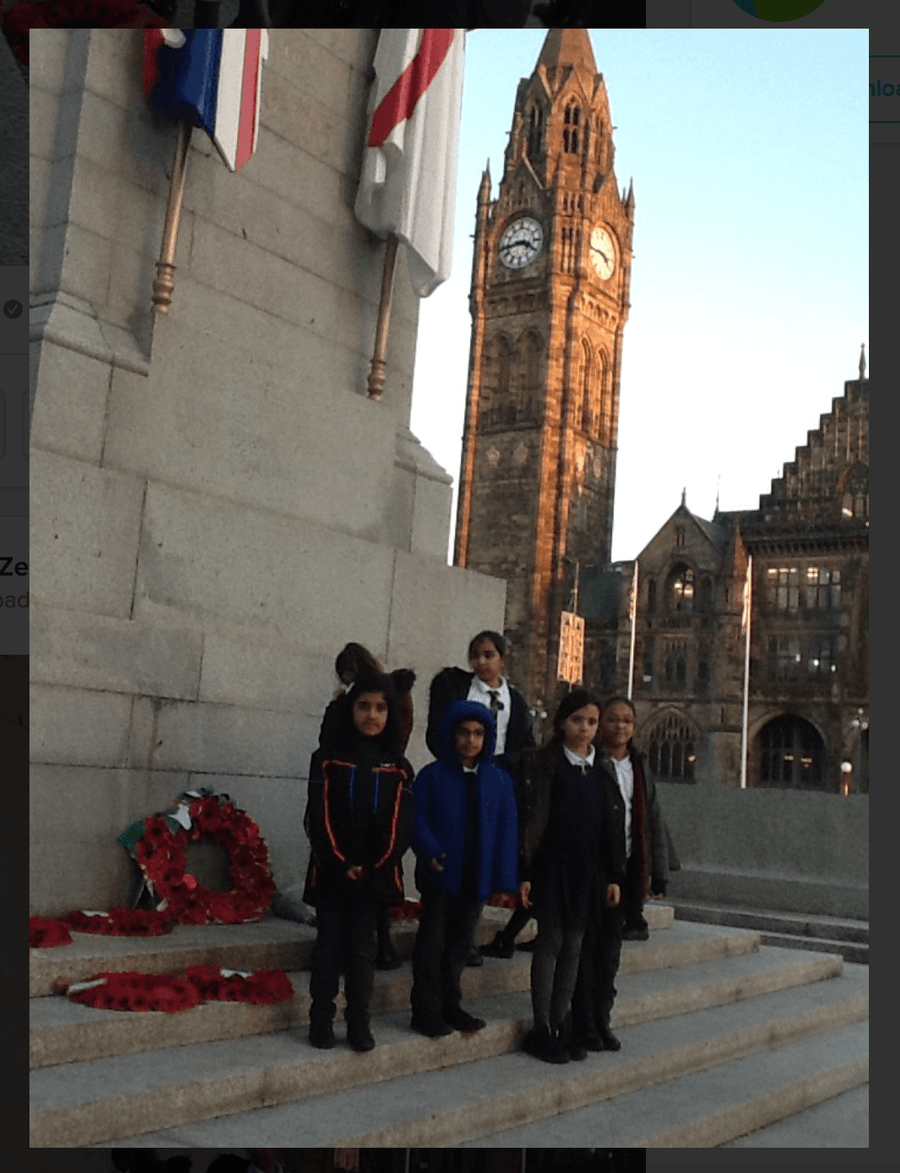 Would you like to be a School Council Representative?
You will need to: attend every meeting, listen to each other and share the work we do.
The Job of the Representatives:
• Makes sure that your class views are heard at the meeting.
• Collects ideas from your class to discuss at the meeting.
• Report what has been discussed in the meeting to your class.
• Attend council meetings and talk about things and make decisions.
If you would like to help your school and your class be ready to tell everyone why they should choose you.
The vote will take place in the the week beginning 24th September.
If you have already been accepted into a different club then I'm afraid you won't be able to apply.