School Council September 2022
Welcome to our School Council Page for Year 22/23! Children have voted for and elected our new school council members at Broadfield CPS. The children have been learning how to hold their own meetings, so they have a voice in school that represents them.
Our new school council have selected children for different roles as they plan to work together to make
Broadfield an even more fantastic place to be.
Chair person- Ali B
Vice Chair person- Hareem
Secretary- Ayesha
Vice Secretary- Inaaya
Treasurers- Samson, Rehan
Spokes people- Chanel, Miguel
Photographers- Edy, Neema, Jameela
Webpage editors- Ali B, Hareem, Yaye
Mrs Zesmin- Teacher responsible for SMSC (Spiritual Moral Social Cultural),
British Values and raising ambition and aspirations.
This Year we plan to improve our playground and areas of our school as well as
hold many more fun events in the year, starting with Children in Need in November!
We will keep you updated!
Following the visit from the NHS, School Council have been asked to provide some drawings to be used withNHS leaflets that will be given to children to make their information more accessible to young children.
Iffat in Year 4 produced this superb poster which we have shown to the NHS.
Fabulous job Iffat!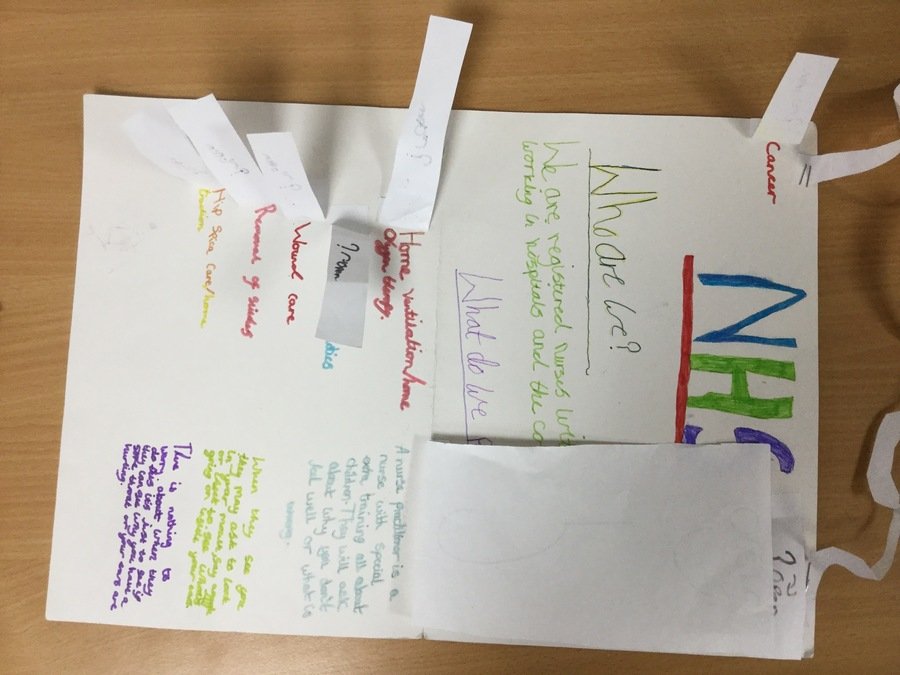 A VISIT FROM THE NHS
On Thursday 17th January two nurses from the National Health Service (NHS) came to visit our School Council at Broadfield Primary School. We were also joined by some other children from school who wanted to take part in this unique experience.
They gave us lots of information about the different jobs of the doctors and nurses in the NHS. They told us about GP's and about specialist children's doctors called Paediatricians.
They bought lots of leaflets for parents and carers but their leaflets were not very child friendly. So, they asked us for some help to make their leaflets child friendly and accessible for children who were visiting doctors because of illnesses.
Our School council suggested that they could also develop child friendly posters to give children more information about Allergies, Asthma, Eczema etc. They thought it was a brilliant idea.
Following the visit they asked for our children's drawings which may be used on their new leaflets and posters!
***Please Remember: Our last meeting this year will be on the 6th December.***
The Job of a Magistrate
On Thursday 22nd November the School Council invited a Rochdale magistrate to come and speak to some children from our school.
They found out some really interesting information:
You can't be a magistrate if you have a criminal record.

Magistrates can be aged from 18yrs to 70yrs.

A magistrates day starts at 10am and finishes at 5pm.

Magistrates DO NOT GET PAID!

They pass sentences and can send criminals to prison.

Children aged 10years old to 17 years old go to a young offenders court.

Once you get a criminal record it stays on your file FOREVER!

80

different countries will not allow people, who have a conviction against them.
The School Council representatives will come round to the classes to tell you about the visit and answer any questions you might have and
Well done to the School Council representatives who helped sell raffle tickets during Children in Need week.
.Watch out for information about our visit on Thursday 22nd November from representatives of Rochdale magistrates. They will be coming to school to give a presentation to the school council about the work of a magistrate. School Council will then pass on what they learn to the rest of KS2. It promises to be an exciting evening!
In December we will be visited by members of the NHS team responsible for designing child friendly literature for distribution to the public. They will be coming to school to ask the children for their help in designing child-friendly leaflets for distribution in hospitals and getting the children's advice on how they can use different media, to raise the profile of their services.
We have some interesting ideas for later in the school year to help our school and would like any ideas you can offer too! Give your ideas to one of the School Council or Mrs Zesmin.