In Reception we are encouraged to explore, create, be curious, messy and have fun. Through all of this, we learn!
All of our learning is focused on the 'Characteristics of Effective Learning'; Playing and Exploring, Active Learning and Creating and Thinking Critically. Our classrooms and outdoor area are set up to enhance your child's learning and development of skills in these areas. We promote the characteristics through our Achievosaur initiative in our key worker groups. This year we are also an Early Adopter of the new Early Years Framework.


Adults in Reception

Mrs Royle - Assistant Headteacher, EYFS Lead and Minnie Class Teacher
Mrs Harpham - Minnie Class Teacher (afternoon)
Mr Ullah - Pluto Class Teacher
Mrs Barker - PPA Cover Teacher
Mrs Wall - HLTA
Miss Wright - Teaching Assistant
Mrs Royds - Teaching Assistant (afternoon)
Miss Lea - SEN Teaching Assistant
Miss Hernon - SEN Teaching Assistant
Mrs Paul - SEN Teaching Assistant

Projects
In Reception your child tells us what they love and we teach them all about it! We also base our projects on the experiences and skills that we know the children need to learn about from our regular assessments. We like to ensure your child loves to learn and the way to do that is to learn about what they love. We use our knowledge of the children and observations of their learning to create lots of exciting and practical learning opportunities around their ideas and Characteristics of Effective Learning.
Autumn B: How do people celebrate?
In our project this half term, we will be reading books and stories about different celebrations. We will be discussing all the celebrations and festivals we celebrate and how we celebrate with our families. We will be learning about different celebrations and traditions around the world.
In Maths we are following these White Rose themes: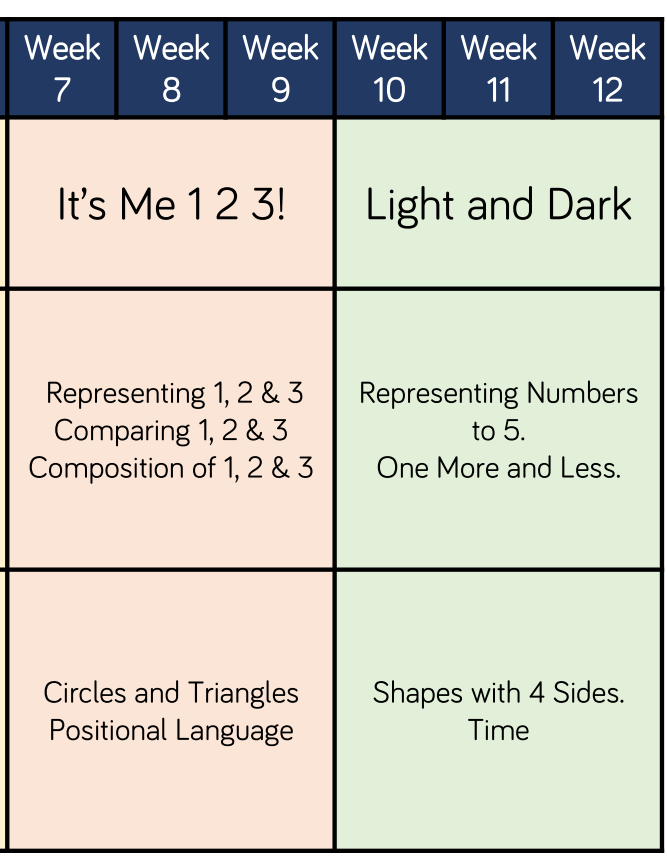 Autumn A: Why is it marvellous to be me?
In this project we will be finding out all about what the children can do and what their targets will be. The children will also be making new relationships, settling in to their new school/class and learning to respect and follow the school rules.
In Maths we are following these White Rose themes: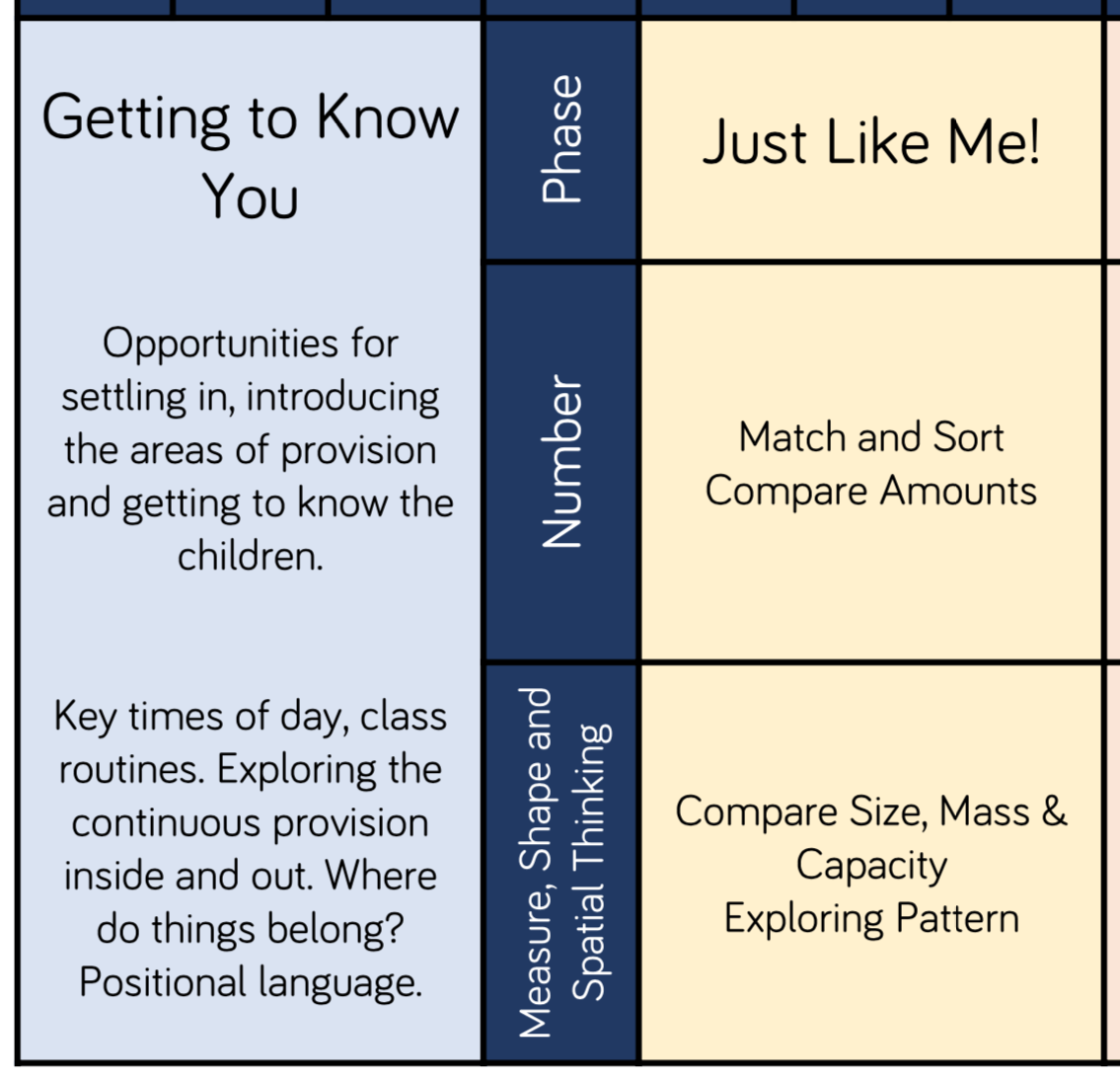 Educational Visits
Educational visits are at the heart of learning here at Broadfield. We believe that these visits allow a child to be immersed in their learning and bring their learning to life, giving it purpose.
Your child will bring home a letter including all the details and prices of the visit. You will also receive a text to remind you of the visit. Please ask any of the staff for more information.
Other Information
Please ensure your child brings spare clothes to school to keep on their peg. These may be needed for a number of reasons including messy play and accidents.
Follow your child's teacher on Class Dojo! We post lots of photos of your child enjoying their learning and also post lots of important information reminders too.
How can you help your child to be school ready?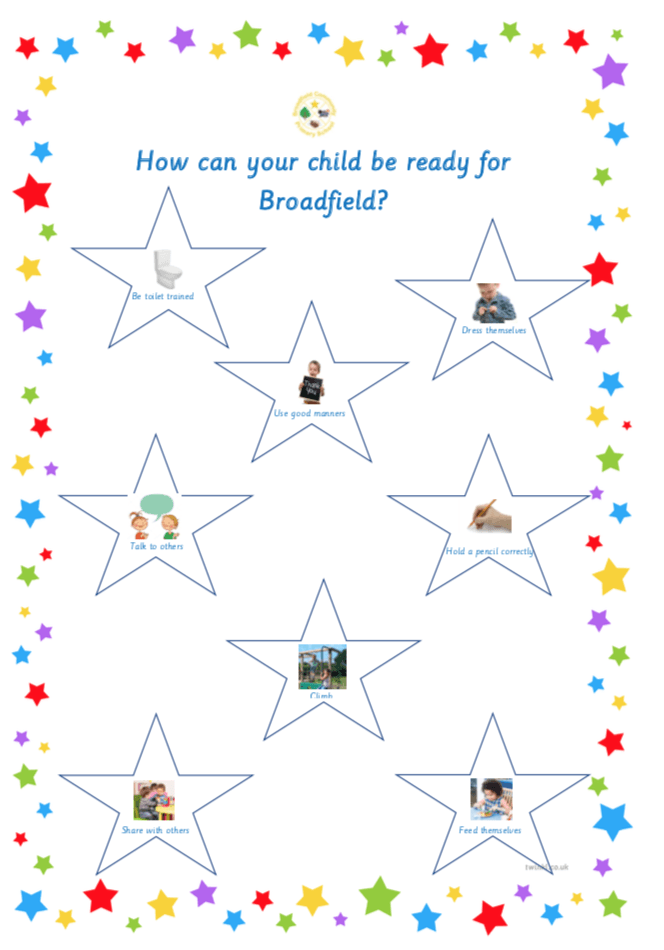 Medium Term Plans
Newsletters